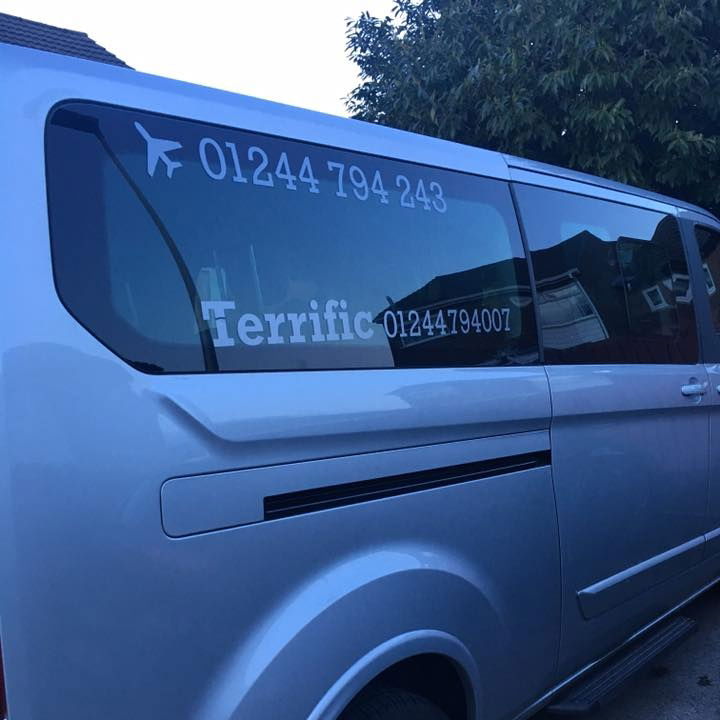 WHO WE ARE
Terrific Taxis is run by, Matthew & Sean, we have over 20 years of experience in the industry and decided a few years ago that we could do things better than the rest. We employ local drivers like ourselves who have a good knowledge of the local area. We are not the biggest taxi firm in town but we are the best. We give courtesy calls to all our customers 24 hours before your day of travel so you know you are booked and we will be there for you. We aim to be able to provide your drivers details on this call. We are licensed with Cheshire West & Chester Licensing Authority and our Operating License Number is PHO114.
HOW TO CONTACT US
We realise that in the 21st century you need to be able to book a taxi online, but we also know that many of you like to pick up the phone and talk to someone, we have three dedicated telephone lines. 0151 374 2728 For Ellesmere Port. 01244 794007 & 01244 794243 For Chester. Our telephone staff aim to pickup every call but if they are on a detailed booking and you do not get an answer please call 07450207464 this will get you through to one of the owners who will take your booking. We also have web chat available as well, please give our staff a moment or two to respond as sometimes the calls are coming in thick and fast, alternatively leave a message on the contact page and someone will call you back as a priority.
HOW WE ARE DIFFERENT
95% of our work is pre-booked, this allows us to organise our bookings and dispatch your job to a driver over 24 hours in advance and ensure we are on time. Your booking is important to us and we have built a good reputation because we care. You can check out our reviews on Google & Facebook and see for yourself.
AIRPORT TRANSFERS
This is our main source of business, because we are reliable and reasonably priced. This financial year we will complete in excess of 2000 Airport Transfers for both corporate clients and holiday makers. We take flight numbers so that we can track your flight using flight radar and be there for you when you land. Your driver will call you when you land and organise picking you up from the terminal and assisting you to the car with your luggage.
Our prices we quote are what you pay,
WE
DO NOT ADD TOLLS AND PARKING ON THE DAY. DO WE TAKE CARD
Yes we take card. Our online booking system uses PayPal (
YOU DO NOT NEED A PAYPAL ACCOUNT YOU CAN PAY AS A GUEST)
. All our drivers have in car card machines also and can provide you with a receipt for your journey. As a business we can also provide you with a full invoice for your expenses. If you pay over the phone your payment is take securely via Stripe and no details are retained.
LICENSED VEHICLES AND DRIVERS
All our vehicles and drivers are licensed with Cheshire West & Chester, we keep full records in line with local authority guidelines and check our drivers and vehicles standards on a regular basis.
FIXED PRICING
Here at Terrific Taxis we believe in fair pricing and that you should know the cost of your journey prior to travel. We will provide a fixed price for any taxi journey big or small. All our airport transfers are fixed priced as standard and include parking and drop off charges, the price you see is the price you pay!!
WHEELCHAIR ACCESSIBILITY
We are delighted to offer Wheelchair Accessible travel options via the use of Black Cabs, please let us know if you require a wheelchair accessible vehicle upon booking and please note that this will reduce the amount of people we can take in that vehicle. If you have any other requests such as help with luggage or assistance to the vehicle please let our booking staff know and we will assist as much as we can.
THANKYOU FOR BOOKING WITH TERRIFIC TAXIS
Sean, Matthew & Team